Letters of Recommendation
International Union of Bricklayers and Allied Craftworkers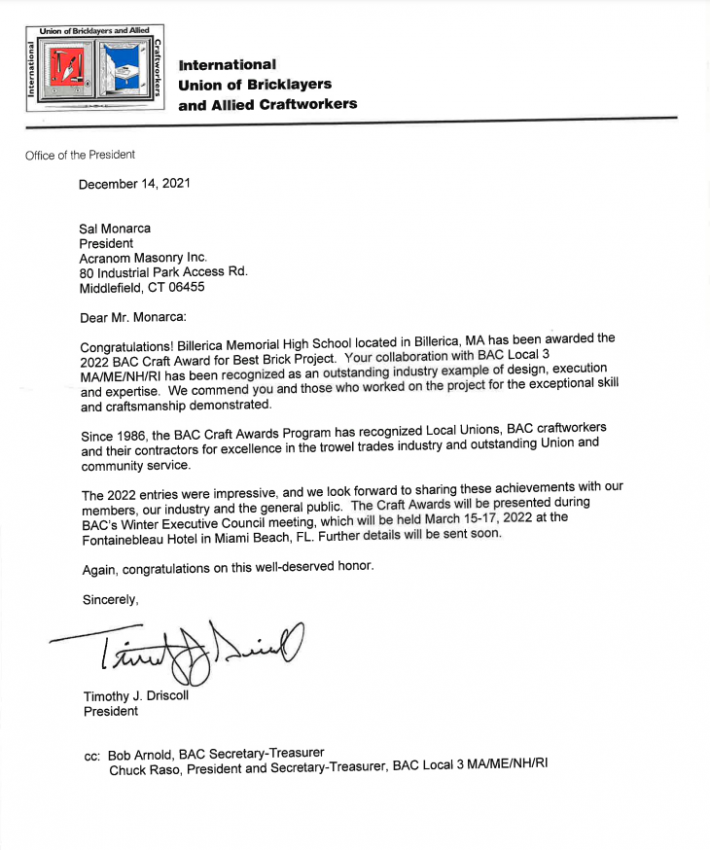 December 14, 2021
Sal Monarca
President
Acranom Masonry Inc.
80 Industrial Park Access Rd.
Middlefield, CT 06455
Dear Mr. Monarca:
Congratulations: Billerica Memorial High School located in Billerica, MA has been awarded the 2022 BAC Craft Award for Best Brick Project. Your collaboration with BAC Local 3 MA/ME/NH/RI has been recognized as an outstanding industry example of design, execution and expertise. We commend you and those who worked on the project for the exceptional skill and craftsmanship demonstrated.
Since 1986, the BAC Craft Awards Program has recognized Local Unions, BAC craftworkers and their contractors for excellence in the trowel trades industry and outstanding Union and community service.
The 2022 entries were impressive, and we look forward to sharing these achievements with our members, our industry and the general public. The Craft Awards will be presented during BAC's Winter Executive Council meeting, which will be held March 15-17, 2022 at the Fontainebleau Hotel in Miami Beach, FL. Further details will be sent soon.
Again, congratulations on this well-deserved honor.
Sincerely,
Timothy J. Driscoll
President
cc: Bob Arnold, BAC Secretary-Treasurer
Chuck Raso, President and Secretary-Treasurer, BAC Local 3 MA/ME/NH/RI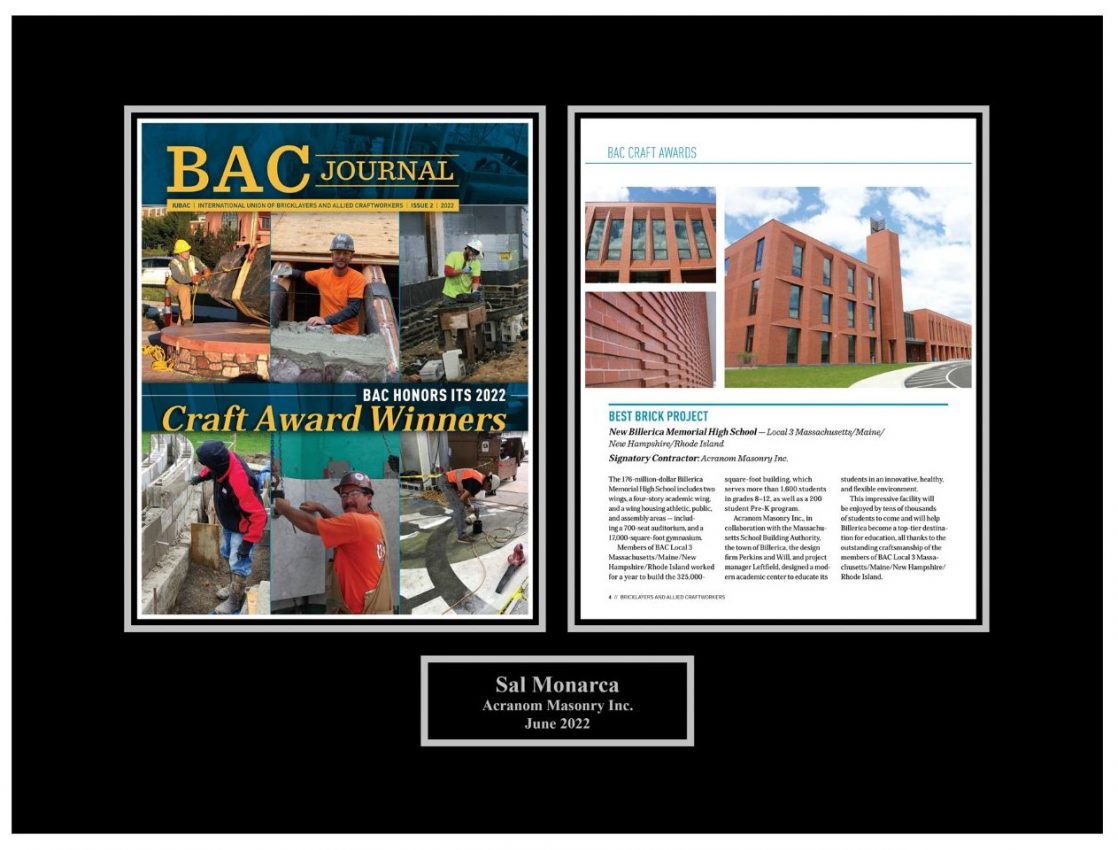 ---
Harvard Medical School
August 24, 2018
To Whom it May Concern:
On behalf of Harvard Medical School, I would like to offer a letter of recommendation for Acranom Masonry, Inc for the work they performed on several projects at the HMS Longwood campus in Boston, MA.
AMI performed a number of jobs with the highest level of workmanship, attention to detail and quality along with a focus on professionalism. Their work included repairs and rebuilding of historic marble balustrade walls on the main HMS quad. This work was performed under a very tight schedule with high visibility. In addition to that job their masonry repair work has always been performed in a safe manner while fulfilling our demanding schedules. It was a pleasure to work with the many members of their team especially Aldo Ranieri and Ben Weymouth just to name a few.
I look forward to working with AMI on future projects.
Sincerely,
Sharon M. Lorince
---
Standard Builders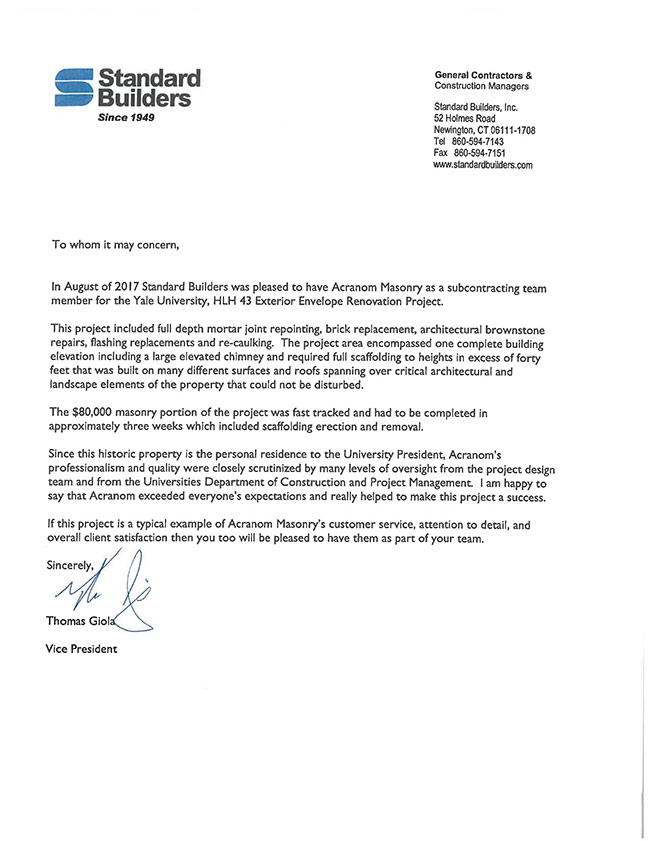 To Whom It May Concern:
In August of 2017 Standard Builders was pleased to have Acranom Masonry as a subcontracting team member for the Yale University, HLH 43 Exterior Envelope Renovation Project.
This project included full depth mortar joint repointing, brick replacement, architectural brownstone repairs, flashing replacements and re-caulking. The project area encompassed one complete building elevation including a large elevated chimney and required full scaffolding to heights in excess of forty feet that was built on many different surfaces and roofs spanning over critical architectural and landscape elements of the property that could not be disturbed.
The $80,000 masonry portion of the project was fast tracked and had to be completed in approximately three weeks which included scaffolding erection and removal.
Since this historic property is the personal residence to the University President, Acranom's professionalism and quality were closely scrutinized by many levels of oversight from the project design team and from the Universities Department of Construction and Project Management. I am happy to say that Acranom exceeded everyone's expectations and really helped to make this project a success.
If this project is a typical example of Acranom Masonry's customer service, attention to detail, and overall client satisfaction then you too will be pleased to have them as part of your team.
Sincerely,
Thomas Giola
Vice President
---
Kokolakis Contracting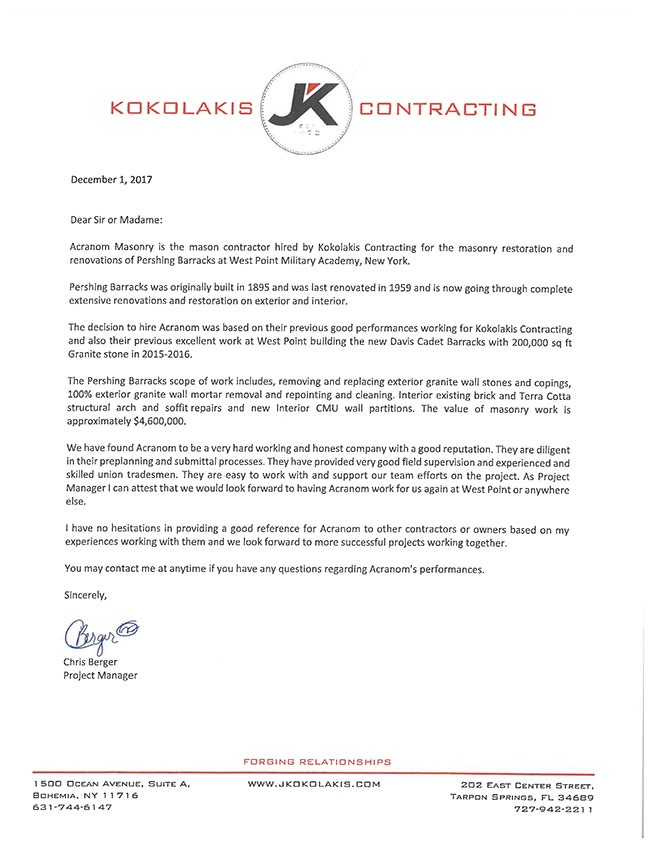 December 1, 2017
Dear Sir or Madame:
Acranom Masonry is the mason contractor hired by Kokolakis Contracting for the masonry restoration and renovations of Pershing Barracks at West Point Military Academy, New York.
Pershing Barracks was originally built in 1895 and was last renovated in 1959 and is now going through complete extensive renovations and restoration on exterior and interior.
The decision to hire Acranom was based on their previous good performances working for Kokolakis Contracting and also their previous excellent work at West Point building the new Davis Cadet Barracks with 200,000 sq ft Granite stone in 2015-2016.
The Pershing Barracks scope of work includes, removing and replacing exterior granite wall stones and copings, 100% exterior granite wall mortar removal and repainting and cleaning. Interior existing brick and Terra Cotta structural arch and soffit repairs and new Interior CMU wall partitions. The value of masonry work is approximately $4,600,000.
We have found Acranom to be a very hard working and honest company with a good reputation. They are diligent in their preplanning and submittal processes. They have provided very good field supervision and experienced and skilled union tradesmen. They are easy to work with and support our team efforts on the project. As Project Manager I can attest that we would look forward to having Acranom work for us again at West Point or anywhere else.
I have no hesitations in providing a good reference for Acranom to other contractors or owners based on my experiences working with them and we look forward to more successful projects working together.
You may contact me at anytime if you have any questions regarding Acranom's performances.
Sincerely,
Chris Berger
Project Manager
---
Walsh Construction Co.
February 14th, 2013
To Whom it May Concern,
Please be advised that Acranom Masonry, Inc. has been providing masonry services for the Windsor Locks Readiness Center project at the Connecticut Army National Guard facility at Bradley International Airport for Walsh Construction Co. This is a nearly $2.0M project which entails the installation of both interior CMU walls and exterior CMU walls with Brick Facing.
Walsh Construction Co. is a member of the Walsh Group from Chicago, Illinois. We are extremely discerning about our choice of subcontractors, and as well, I have had extensive experience working with Acranom Masonry in the past. Walsh Construction Co. and the Walsh Group are highly focused on safety and quality. To that end, I would be proud to recommend Acranom Masonry, Inc. They have been exemplary in their implementation of safety and are leaders in safety on our jobsite.
Their work has been impeccable and they can be counted upon to take any corrective measures necessary to please our customer and meet the high standards of quality that The Walsh Group demands for our clients.
Additionally, the management staff on this project has provided excellent leadership. They have been engaging in their approach to solving construction issues, and have provided all necessary submittal and safety paperwork in a thorough and timely fashion. Mr. John Duffy (VP/Project Manager) has been on site on a regular basis to inspect quality control and to facilitate our schedule needs.
Acranom Masonry, Inc. has met each schedule challenge we have requested and has extended themselves to insure the success of the project. I would highly recommend Acranom Masonry, Inc. for any project, as their people are their biggest asset. Please feel free to contact me should you wish to discuss the above information.
Best regards,­
Mark J. Ronnow
Project Manager
---
KBE
22 Feb 2013
To Whom It May Concern:
It has been my pleasure to work with Acranom Masonry over many years on many of our masonry projects, especially on the current project at Carrington School in Waterbury, CT.
At Carrington, they again have showed their quality workmanship and their commitment to a safe work environment for all. The Carrington project is very challenging with several masonry wall features including Ledgestone veneer, brick veneer, precast copings, CMU wall backup and interior CMU partition walls.
Acranom with their hard work and effort has kept the job on schedule through the current tough winter period. Their work includes scaffolding and building Ledgestone on difficult sloped roof attics and gables under winter conditions. It is noted that they actually hired (at their own expense) a certified scaffold engineer to help design, approve and monitor the scaffolds on the sloped roofs. The quality of the work and their awareness to safety for the entire installation has been very good.
I understand that approximately 6 months ago, Acranom hired a new Vice President and recently a new Safety Officer; both these developments have certainly improved the company and the service they provide. I am aware the company is going through a period of restructure and they are implementing a series of new and improved systems.
The support from the office to the field has been impressive and the response to address any issues whatsoever has been a big improvement. Acranom has also held documented on-site specific Quality Control and Safety meetings with their employees and they have also provided scaffold training and certification for other trades employees on the project.
Therefore, I have no hesitation in recommending Acranom Masonry to any Owner or Contractor for any future masonry projects.
I look forward to the completion of another successful project and to work with the Acranom Team again soon. Please feel free to contact me directly if you need any further information.
Sincerely,
Tony Mancini
Vice President of Field Operations
---
KBE Building Corporation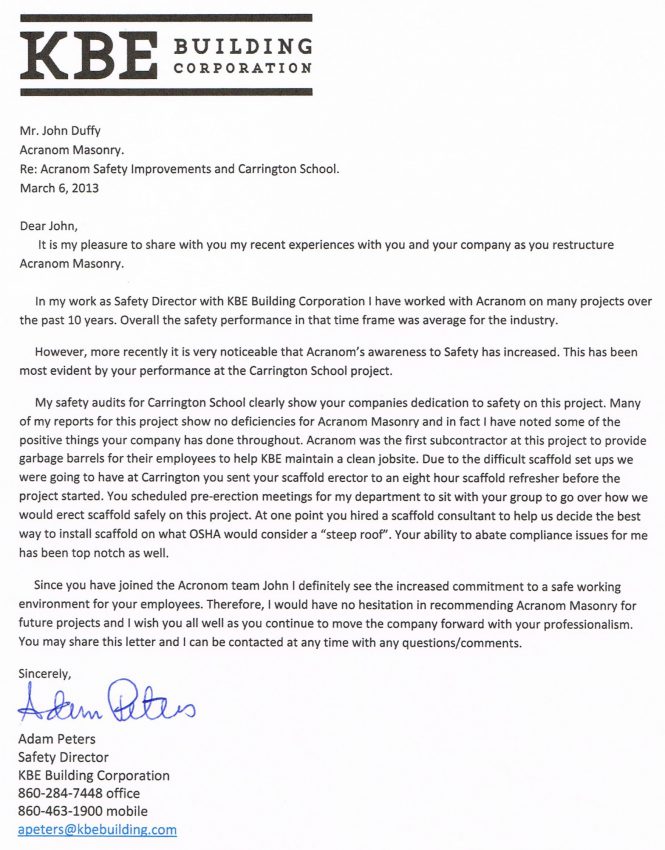 March 6, 2013
Re: Acranom Safety Improvements and Carrington School
Dear John,
lt is my pleasure to share with you my recent experiences with you and your company as you restructure Acranom Masonry.
ln my work as Safety Director with KBE Building Corporation I have worked with Acranom on many projects over the past 10 years. Overall the safety performance in that time frame was average for the industry.
However, more recently it is very noticeable that Acranom's awareness to Safety has increased. This has been most evident by your performance at the Carrington School project.
My safety audits for Carrington School clearly show your companies dedication to safety on this project. Many of my reports for this project show no deficiencies for Acranom Masonry and in fact I have noted some of the positive things your company has done throughout. Acranom was the first subcontractor at this project to provide garbage barrels for their employees to help KBE maintain a clean jobsite. Due to the difficult scaffold set ups we were going to have at Carrington you sent your scaffold erector to an eight hour scaffold refresher before the project started. You scheduled pre-erection meetings for my department to sit with your group to go over how we would erect scaffold safely on this project. At one point you hired a scaffold consultant to help us decide the best way to install scaffold on what OSHA would consider a "steep roof." Your ability to abate compliance issues for me has been top notch as well.
Since you have joined the Acranom team John I definitely see the increased commitment to a safe working environment for your employees. Therefore, l would have no hesitation in recommending Acranom Masonry for future projects and l wish you all well as you continue to move the company forward with your professionalism. You may share this letter and l can be contacted at any time with any questions/comments.
Sincerely,
Adam Peters
Safety Director
KBE Building Corporation
860-284-7448 office
860-463-1900 mobile
ageters@kbebuilding.com
---
Morganti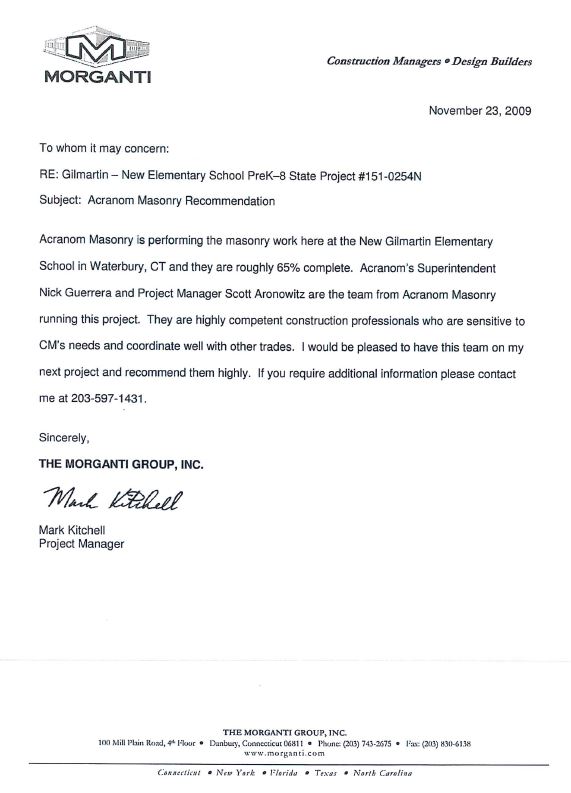 RE: Gilmartin – New Elementary School PreK-8 State Project #151-0254N
Subject: Acranom Masonry Recommendation
To whom it may concern:
Acranom Masonry is performing the masonry work here at the new Gilmartin Elementary School in Waterbury, CT and they are roughly 65% complete. Acranom's superintendent Nick Guerrera and project manager Scott Aronowitz are the team from Acranom Masonry running this project. They are highly competent construction professionals who are sensitive to CM's needs and coordinate well with other trades. I would be pleased to have this team on my next project and recommend them highly. If you require additional information please contact me at 203-597-1431.
Sincerely,
THE MORGANTI GROUP, INC.
Mark Kitchell
Project Manager
---
O&G Industries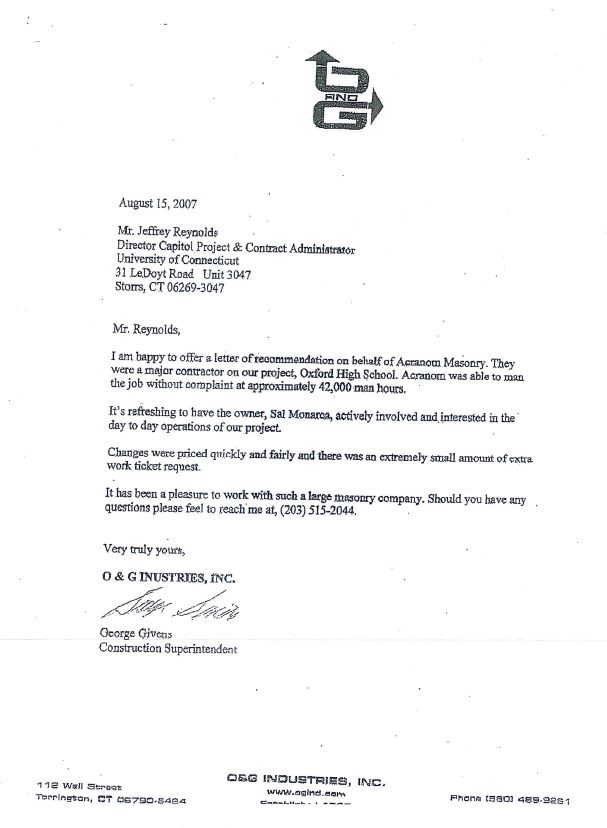 August 15, 2007
Mr. Jeffrey Reynolds
Director Capital Project & Contract Administrator
University of Connecticut
31 LeDoyt Road Unit 3047
Storrs, CT 06269-3047
Mr. Reynolds,
I am happy to offer a letter of recommendation on behalf of Acranom Masonry. They were a major contractor on our project, Oxford High School. Acranom was able to man the job without complaint at approximately 42,000 man hours.
It's refreshing to have the owner, Sal Monarca, actively involved and interested in the day to day operations of our project.
Changes were priced quickly and fairly and there was an extremely small amount of extra work ticket request.
It has been a pleasure to work with such a large masonry company. Should you have any questions please feel free to reach me at (203) 515-2044
Very truly yours,
O & G INDUSTRIES, INC.
George Givens
Construction Superintendent
---
Gilbane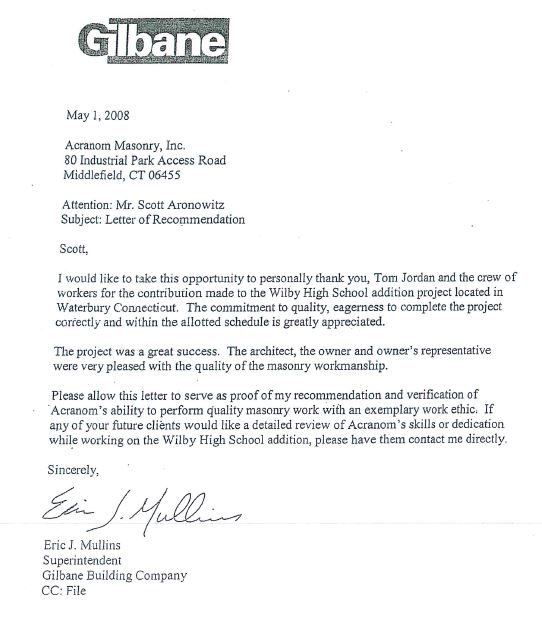 May 1, 2008
Subject: Letter of Recommendation
Scott,
I would like to take this opportunity to personally thank you, Tom Jordan and the crew of workers for the contribution made to the Wilby High School addition project located in Waterbury Connecticut. The commitment to quality, eagerness to complete the project correctly and within the allotted schedule is greatly appreciated.
The project was a great success. The architect, the owner and owner's representative were very pleased with the quality of the masonry workmanship.
Please allow this letter to serve as proof of my recommendation and verification of Acranom's ability to perform quality masonry work with an exemplary work ethic. If any of your future clients would like a detailed review of Acranom's skills and dedication while working on Wilby School addition, please have them contact me directly.
Sincerely,
Eric J. Mullins
Superintendent
Gilbane Building Company
---
Gilbane
September 7, 2007
Subject: Letter of Appreciation
Scott,
I would like to take this opportunity to thank you and Matt for helping me to achieve the project's summer schedule at Wilby High School.
The schedule was a very tight and we were faced with many challenges. However, with your help and the help of Matt we succeeded in making the schedule.
The principal of the school and the instructors of the rooms that were impacted by the renovations were very pleased with the outcome.
I look forward to working with you to make the remainder of this project a success.
Sincerely,
Eric J. Mullins
Superintendent
Gilbane Building Company
---
Bartlett Brainard Eacott (BB&E)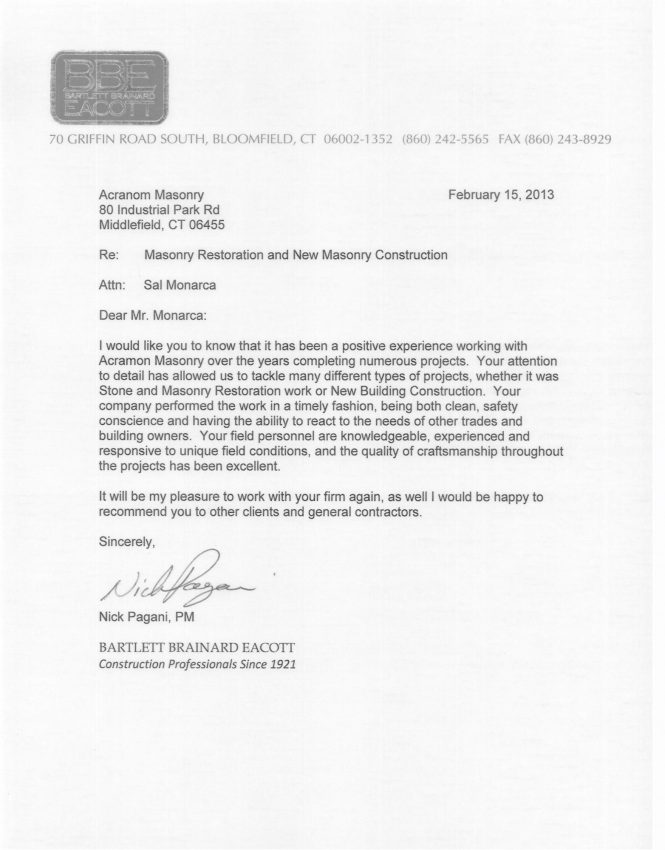 February 15, 2013
Re: Masonry Restoration and New Masonry Construction
Dear Mr. Monarca:
I would like you to know that it has been a positive experience working with Acranom Masonry over the years completing numerous projects. Your attention to detail has allowed us to tackle many different types of projects, whether it was stone and masonry restoration work or new building construction. Your company performed the work in a timely fashion, being both clean, safety conscience and having the ability to react to the needs of other trades and building owners. Your field personnel are knowledgeable, experienced and responsive to unique field conditions, and the quality of craftsmanship throughout the projects has been excellent.
It will be my pleasure to work with your firm again, as well I would be happy to recommend you to other clients and general contractors.
Nick Pagani, PM
BARTLETT BRAINARD EACOTT
---
FLUOR
March 24, 2009
I would like to take this opportunity to recommend Acranom Masonry for inclusion as part of your construction team. Acranom was a vital member of the construction team at Hartford Public High School. Acranom demonstrated a willingness to work with the Construction Manager for the timely cost effective resolution of changes. Acranom was also considerate of the needs and work product of the other subcontractors during the execution of their work. All of which facilitated the projects execution. The work was executed under extreme conditions. The architect, the owner and owners' representative proved to be neither as cooperative nor responsive as the Project Plan required. However, the level of success that was achieved could not have occurred without Acranom's efforts and contributions. I would not hesitate to enlist Acranom on a similar project in the future. I am quite confident that if you give Acranom the opportunity their performance will be an integral part of that project's success.
Please allow this letter to serve as recommendation of Acranom's ability to perform quality masonry work with an exemplary work ethic. Acranom will become a valued member of your project team given the opportunity. If you would like to discuss this, please contact me directly at 401 206-1282.
Thank you,
Larry Aldocce
Project Manager
---
Downes Construction
Project: University of Hartford Performing Arts Center
Hartford, Connecticut
To Whom It May Concern;
Acranom Masonry Inc. recently completed a complex Masonry installation and restoration scope of work for Downes Construction at the above referenced project. Acranom did an exemplary job in completing the installation of the work and meeting our schedule for the project. The high quality of work involved construction of new complex spaces and the restoration of a 1926 façade of an existing building which is now the crown jewel at the Universities Hartt School.
We are currently working with Acranom on a City of Hartford school project and would be happy to see them on future Downes Construction projects and would recommend them to others in search of a quality masonry contractor.
Sincerely,
Downes Construction Company, LLC
Steven W. Smith
Sr. Project Manager
---
Fusco – Metropolitan Business Academy
To whom it may concern:
I am writing on behalf of Acranom Masonry with regard to the masonry work they performed at the above reference project.
During my time working with Acranom Masonry's field superintendents, project manager and office staff on this project, I can confirm that they were competent construction professionals who were sensitive to their client's requirements and/or needs and coordinated very well with other trades.
As always, if you have any further questions or require any additional information regard my experiences with Acranom Masonry please feel free to contact me directly at 203-777-7451
Sincerely,
Jeffrey J. Luzzi
Project Manager
---
C&R Development Company, Inc. – Sheridan Communications
December 9, 2009
Sal,
On behalf of C&R Development, I would like to offer a letter of recommendation on the workmanship performed at Sheridan Communications. Acranom Masonry did an impeccable job in completing the Masonry work, staying on schedule within the allotted time. The workmanship quality is excellent. Your safety program was good and it was a pleasure to work with your project management team.
I look forward to working with you on future projects.
Sincerely,
C&R Development
Chris Cykley
Assistant Project Manager